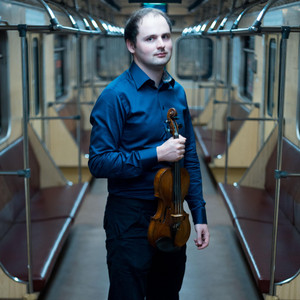 Maksym Filatov was born in a year 1990 in city Dnipro, Ukraine.
At the age 18 he finished Kyiv Secondary Specialized Music School after M. Lysenko at the violin class of Olga Korinets. During his school studies Maksym made several successful achievements: became a laureate of three different music international competitions ("XXI Century Art", Kyiv (Vorzel), Ukraine; "Khortytsia Chords", Zaporizhzhia, Ukraine and "Concursul international de viora "Remember Enescu", Sinaya, Romania) and was awarded as one of hundred most talented kids in Ukraine by president Yushchenko.
After the school Maksym starts his studies at the Ukrainian National P. I. Tchaikovsky Academy of Music, Kyiv (Ukraine) in the violin class of Georgiy Konovalov. 
During 2008-2010 years he became laureate of "VIII International Art Competition for Children and Youth "Sribny Dzvin" For Yevhen Stankovych prize", Uzhgorod, Ukraine; won Gran Prix "Chamber Ensemble Competition" of Ukrainian National P.I. Tchaikovsky Academy of Music, Kyiv, Ukraine with Alevtyna Dobina (piano) and got Diploma of "VI International Beethoven competition for violin & viola St. Polten
2010", Austria. In the same year he was one of the participants at the "VI Paganini Moscow International Violin Competition".
During the school season 2010/2011 Maksym was teaching violin at the Kyiv Secondary Specialized Music School after M. Lysenko.
In the year 2011 he continues his studies in Finland at the Turku Music Academy with a violin professor Alexander Vinnitski. Under his mentorship Maksym achieved the biggest success and
true mastership of violin playing. The most successful was end of 2013 year and whole 2014 year, when he won two I prizes ("Baltfest", Helsinki, Finland and "XXI Century Art", Lempäälä, Finland), one Gran Prix ("Bravo, Turku", Turku, Finland) and one II prize ("X International Beethoven competition in St. Pölten", Austria).
2014 year was a year of great challenge as well, as Maksym started to work as IV concertmaster at Estonian National Opera orchestra, where he worked till the middle of 2016 year. After graduating from Turku Music Academy in 2016, Maksym got even bigger challenge, to work as a substitute for I concertmaster at Oulu Symphony Orchestra for four months. After that he continued to work at the Joensuu City Orchestra for half a year as a I violin tutti player.For the season 2017/2018 Maksym was a 1st violin leader in Lappeenranta City Orchestra.From June 2018 to February 2019 Maksym worked as II concertmaster at St. Michel Strings.
On the 11.11.2018 had a solo concert in Tallinn, which had a great success in the audience. Since autumn 2018 continued his master degree studies at the Sibelius Academy in Helsinki.
After that worked at Kuopio City Orchestra, Joensuu City Orchestra, Oulu Symphony Orchestra and Helsingborg Symphony Orchestra.
For the season 2019/2020 continued as 1st violin leader in Lappeenranta City Orchestra. Spring 2020 was a great beginning for a constantly growing streaming career, mostly on Spotify.
On November 2020 was launched the Violinist's Podcast.
For the season 2021/2022 was a I violin principal at Oulu Symphony Orchestra. Since the season 2018 and up until now member of the orchestra Solistes Européens, Luxembourg.
Since spring 2020 studies under the mentorship of a prominent Finnish violinist Pekka Kauppinen.
On June 2020 joined The Finnish Soloists' Association.
Since autumn 2020 studies as well under the mentorship of another prominent Finnish violinist Jukka Merjanen.
Starting from study year 2021 continued his studies with Tero Latvala. Starting from the season 2022 member of Tampere Philharmonic Orchestra as I violin tutti.
31.12.2022 graduated as Master of Performance from Sibelius Academy in Helsinki.
On the Spring 2022 reached 10.000 monthly listeners on Spotify and on the Summer 2022 reached 4000 followers just on Spotify. The amount of streams on September 2022 is more, than 300.000 streams.
Maksym took part in master-classes of the famous violinists, leading pedagogues, professors, concertmasters of the orchestras: Daniel Stabrawa (Germany), Boris Kushnir (Austria), Pierre Amyoal (France), Albert Markov (USA), Olga Parhomenko (Finland), Mikhail Strikharzh (Germany), Arkadiy Vinokurov (Austria), Anatoliy Melnikov (Finland), Alexander Vinnitski (Finland), Vilmos Szabadi (Hungary), Jukka Merjanen (Finland), Juha- Pekka Vikman (Finland), Dennis Kim (Korea), Raymond Cox (USA), Toomas Nestor (Estonia), Arvo Leibur (Estonia).