Maksym Filatov was born in a year 1990 in city Dnipro, Ukraine. At the age 18 he finished Kyiv Secondary Specialized Music School after M. Lysenko at the violin class of Olga Korinets. During his school studies Maksym made several successful achievements: became a laureate of three different music international competitions ("XXI Century Art", Kyiv (Vorzel), Ukraine; "Khortytsia Chords", Ukraine and "Concursul international de viora "Remember Enescu", Sinaya, Romania) and was awarded as one of hundred most talented kids in Ukraine by president Yushchenko.
Concerto No. 4 in F Minor, Op. 8, RV 297, "Winter" (L'inverno): I. Allegro Non Molto
ALSO SPRACH ZARATHUSTRA (I VIOLIN SOLO)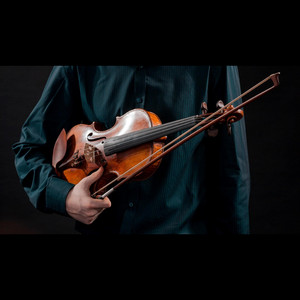 ALBUM I Violin tutti audition program (orchestra excerpts)
Violin Orchestra Excerpts
Bach: Suite No. 5 for Viola Solo (Rīgas Sv. Jāņa baznīca)
ALSO SPRACH ZARATHUSTRA (I VIOLIN SOLO)
MOZART GALA Programma: Volfgangs Amadejs Mocarts Klavieru trio Do mažorā K.548 Duets vijolei un altam (pārlikums vijolei un čellam) Sol mažorā K.423 Sonāte klavierēm Do mažorā K.545 Sonāte vijolei un klavierēm mi minorā K.304/300с Fantāzija klavierēm re minorā K.397 Baznīcas sonātes Nr.8 La mažorā K. 225(241b), Nr.11 Re mažorā K.245, Nr.15 Do mažorā K. 328 (317c) Atskaņotājmākslinieki: Anna Salnit (vijole) Maksym Filatov (vijole, Somija) Irina Viļegžaņina (čells) Roksana Tarvide (klavieres) Kirill Lissijenko (klavieres, Igaunija) Koncerts divās daļās. Koncerta ilgums ~ 1 st. 50 min.
17. oktoobril kell 19.00 toimub barokse Kadrioru lossi kaunis saalis, kus praegu asub kunstimuuseum, kammermuusika kontsert. See õhtu on pühendatud keelpillikvarteti žanrile. Esitamisele tulevad Ludwig van Beethoveni kvartett op.18 c-moll, Dmitri Šostakovitši kvartett N 8 ja Karl Jenkinsi Adiemuse variatsioonid. Kvartetid op.18 kirjutas noor Beethoven. Neljandas, c-moll kvartetis kajastuvad mitmesugused vaimsed kogemused, milles põrkasid kokku kasvava kurtuse, loomingulise entusiasmi, armastuse rõõmu ja õnne teel seisvate takistuste traagika. Šostakovitši kaheksas kvartett naudib nii akadeemilise žanri teoste puhul haruldast populaarsust. Kvartett on pühendatud "fašismi ja sõjaohvrite mälestusele", kuid seda peetakse ka helilooja autobiograafiliseks teoseks. Kvartetis tsiteerib Šostakovitš keskosades enam kui kahtkümmet enda teemat eri aastate teostest ning DSCH monogrammi motiiv läbib kogu teost. 4 variatsiooni Walesi kaasaegse helilooja Carl Jenkinsi albumi "Adiemus - Songs of Sanctuary" nimiloost. 20. sajandi lõpus uskumatult populaarne Adiemuse projekt on samastatud uue ajastu žanriga. Jenkins lõi universaalse muusika, mis on oma maalähedaste juurte tõttu kõrvale meeldiv ja surematu. Helilooja on kindel, et tema abiga muutuvad inimesed ühtsemaks ja sõbralikumaks. Esinevad Maxim Filatov (viiul, Soome), Anna Salnit (viiul), Toomas Nestor (vioola, Eesti), Irina Vylegzhanina (tšello) Kontserdi kestus 1 tund. Lisainfo telefoni teel : +37128328193, +37127194220
16.oktobrī plkst.17.00 Rīgas vēstures un kuģniecības muzeja brīnišķīgajā zālē notiks kārtējais kamermūzikas koncerts. Šis vakars būs veltīts stīgu kvarteta žanram. Skanēs Ludviga van Bēthovena kvartets op.18 do minorā, Dmitrija Šostakoviča kvartets Nr.8 op.110 un Karla Dženkinsa Adiemus variācijas. Kvartetus op.18 Bēthovens sacerējis jaunībā. Daudzveidīgi dvēseliski pārdzīvojumi, kuros sadurās pieaugošā kurluma traģēdija, radoša pacēlums, mīlestības prieks un šķēršļi, kas stāv ceļā uz laimi, atspoguļojas ceturtajā, do minora kvartetā. Šostakoviča Astotais kvartets bauda tādu popularitāti, kāda akadēmiska žanra darbam ir retums. Kvartets ir veltīts "fašisma un kara upuru piemiņai", taču tiek uzskatīts arī par komponista autobiogrāfisku darbu. Kvarteta vidusdaļās Šostakovičs citē vairāk nekā divdesmit tēmas no saviem dažādu gadu darbiem, un visu darbu caurvij DSCH monogrammas motīvs. 4 variācijas mūsdienu velsiešu komponista Karla Dženkinsa albuma "Adiemus - Songs of Sanctuary" tituldziesmai. 20. gadsimta beigās neticami populārais Adiemus projekts tiek identificēts ar new-age žanru. Dženkinss radīja universālu mūziku, kas ir ausij tīkama, pateicoties tam, ka sakņojas zemes lietās, un ir nemirstīga. Komponists ir pārliecināts, ka ar viņa palīdzību cilvēki kļūs saliedētāki un draudzīgāki. Atskaņotājmākslinieki - Maksym Filatov (vijole, Somija), Anna Salnit (vijole), Toomas Nestor (alts, Igaunija), Irina Viļegžaņina (čells).
Be The First to Know! Subscribe to Mailing List.